Washing Machine Repair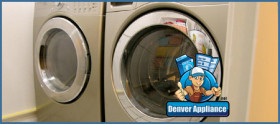 When you have a family, laundry can feel like a never-ending chore. You'll need a functioning washing machine in order to even make a dent in those piles of dirty clothes. If your washing machine is experiencing technical difficulties, forcing you to lug your garments and linens to the laundromat, it's time to call in the washer repair specialists at Denver Appliance Pros. We're the Denver area's experienced choice for washing machine repair, with more than 20 years on the job. We can perform work on most major brands and models, so whether you need Bosch washing machine repair, Hotpoint washing machine repair, or help with another brand, you can expect speedy service from our experienced pros. Call or e-mail us today to discuss your broken washing machine, and to schedule your appointment with us!
When your washing machine is working properly, all you have to do is dump in your clothes, add soap, select the settings, and press a button to get clean clothes. It seems like a simple process. However, washers are sophisticated machines, and even one malfunctioning component can throw a wrench into the works. That's where professional washer repairs come in. Washing machine repairs can solve a variety of complaints, including:
Failure to start
Incorrect water temperatures
Failure to agitate or spin
Failure to fill
Failure to drain
Leaks
And many others
Denver Appliance Pros will always start the washing machine repair process with a thorough assessment of your unit, in order to make an accurate diagnosis. Our experienced washer repair specialists have the training and skill to properly and safely troubleshoot your machine, pinpoint the problems, and select an effective repair method. We only use the best products available to ensure that your washing machine repairs are more than just quick fixes: We provide reliable solutions that will ensure the long-term operation of your unit. For your added security, we stand behind our washing machine repairs with a 90-day warranty on parts and labor. 
Superior Washer Repair Service
Denver Appliance Pros is proud to be fully licensed, bonded, and insured for all of the residential washer repairs we offer. Whether your issue is with a washing machine not draining or one that's leaking all over your laundry room floor, we have the knowledge to get the job done right. We understand what sets various brands and models apart from one another, and we'll tailor our washer repair service accordingly. Your broken washing machine is in good hands when you contact Denver Appliance Pros. 
Washing machine repair service is, with rare exception, a less expensive alternative than purchasing an entirely new unit, and Denver Appliance Pros strives to be your source for affordable local washing machine repairs. If you're looking for the most wallet-friendly way to restore convenience to your routine, pick up the phone and call Denver Appliance Pros now! Our goal to is to bring every customer 100% satisfaction by delivering excellent craftsmanship and competitive prices. 
Washing Machine Repairs
Washer Repair
Washing Machines Repairs