Refrigerator Repair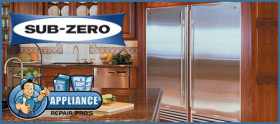 At Denver Appliance Pros, we're proud to provide refrigerator repair to homeowners throughout the greater Denver area. If you have a problem with a refrigerator not cooling, a fridge that's cooling too much, or one that's leaking everywhere, it's time to get in touch with our pros. We're skilled fridge repair technicians who can work on just about every brand and model on the market. Our specialists have more than 20 years of experience with refrigeration repair and are fully licensed, bonded, and insured. Contact us now for more information on the fridge repairs we offer! We look forward to getting your kitchen routine back on track.
At Denver Appliance Pros, we can help with problems including:
Refrigerator not cooling
Fridge cooling too much
Refrigerator making unusual noises
Unit giving off bad odors
Leaks
Door issues
Interior light malfunctions
And many others
Even if you suspect that your refrigeration repair needs are not serious, it's definitely a good idea to have your unit inspected by an expert to be sure. Any change in your refrigerator's performance or behavior could point toward a potential problem, and the faster these issues are addressed, the less likely it is that your fridge will experience a total breakdown. You'll save time, hassle, and money by scheduling fridge repair before things get so bad that you lose all of the food you're storing inside to spoilage. Denver Appliance Pros even offers emergency services, if you just can't wait to get a refrigerator repair technician out to your home.
Warranties for Refrigerator Repairs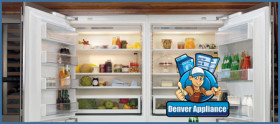 At Denver Appliance Pros, our commitment to customer service sets us apart from other companies offering fridge repairs in and around Denver. That commitment is reflected in our comprehensive warranties. We stand behind our refrigerator repairs with a 90-day warranty that covers both parts and labor. When you hire us, you can have peace of mind that your fridge problems will be solved promptly and that those repairs are meant to last.
It takes more than just reading through a refrigerator manual to be qualified to restore a troubled machine to perfect working order. Professionals with years of training and experience are the key to ensuring your refrigeration repairs will be a success. To the team at Denver Appliance Pros, successful refrigerator repair service fully addresses customers' concerns, corrects all internal and external factors that could be hindering the unit's proper operation, and prevents future problems from occurring. We use only quality parts and effective repair techniques in order to ensure the best possible results. 
Call or e-mail Denver Appliance Pros today to schedule the refrigerator repair service you need. We'll respond promptly and work tirelessly to put your fridge back in good working order. We look forward to hearing from you! 
Refrigeration Repair
Refridgerator Repair
Refrigerators Repair